ACCESS FLOORS IMMEDIATELY 
Our instant sheer strength allows floors to be open to all traffic, including heavy rolling loads.
WORK IN OCCUPIED SPACES 
Our low odor formulas eliminate the need to shut down HVAC systems when installing in occupied spaces.
FINISH YOUR FLOORS QUICKLY 
Floors can be waxed and polished as soon as the installation is complete. Sheet vinyl can be heat welded immediately after installation.
AVOID COSTLY & UNNECESSARY REPAIRS 
Spray application leaves no trowel marks and uses 80% less adhesive, eliminating indentation and displacement.
SUPERIOR MOISTURE
& PH TOLERANCE
---
FEWER REMEDIATION COSTS
Save money by avoiding damages caused by high pH levels and excessive vapor emissions.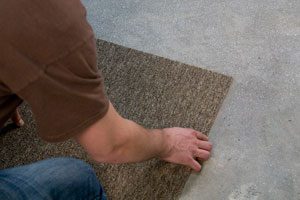 ELIMINATE MOISTURE BARRIERS
Avoid adding costly moisture barrier systems with our high moisture resistant formulas.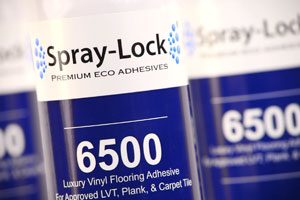 EXCELLENT STANDARD WARRANTY 
Coverage: 98% RH, 8 lbs MVER and 11pH.
SUPERIOR PLATINUM WARRANTY
Extend your coverage with our Platinum products: 99% RH, 10 lbs MVER and 12 pH.
How can an aerosol adhesive be eco-friendly?
We invested years into finding the right propellant to deliver our adhesives in the most effective and safest way possible. While a majority of aerosols have discontinued using CFCs as a propellant, most options on the market today are still highly flammable and have a negative impact on indoor air quality. Other propellants can include nitrous oxide, carbon dioxide, butane and ether, and none are beneficial to indoor air quality in hospitals or other occupied spaces. Spray-Lock's patented technology provides a superior method to applying our water-based adhesives safely and quickly, without any negative impact on the environment or people around.
Non-Flammable Ingredients